Are You Having Heater Problems?
Experiencing problems with your heating unit? Is your heater making noises? Does it consistently turn on and off? Schedule a heating repair service appointment with your local heating contractor!
In This Section:
Water Heater Repairs and Replacement
As water is pumped into a water heater, things like dirt, sediment and various minerals are collected at the bottom. Depending on the quality of your water, these "things" quickly rob your water heater's efficiency and could potentially cost you. If your water heater is left unchecked, this could slowly rust and eat away the unit until it needs to be replaced. This requires an inexpensive fix, which could become costly if not maintained.
The steps we take to maintain the water heaters are:
Locate water heaters
Determine if it's gas or electric
Shut off valve, pressure release valve, and water drain
Turn off heating source and gather supplies
Turn off water and attach hose
Turn on water drain and open pressure release valve
Flush the sediments out
Refill the tank
Having your water heater maintained can save you money over the years. Without it, your water heater lose its efficiency and works harder in order to produce the same power it normally would put out when it's in great shape. Repairing or replacing a water heater is dangerous and will take patience. It's possible to do by yourself but a professional help would be the best idea if other things happen to go wrong.
Aside from water heaters, we are also familiar and experienced in providing repairs and installation for heating systems. Be it gas or electric, we are here to help with your heating needs. Having an unmaintained gas furnace at home can be dangerous. A gas leak, which is common and deadly, can occur. if the flame on your gas furnace isn't blue, call us or the gas company immediately. Look below for an example of what the pilot flame should look like.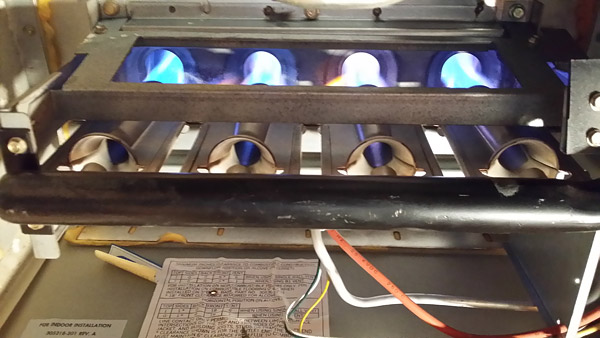 We work with brands like Carrier, Lennox,York, Cozy, Williams, Mitsubishi, Trane and many others!

Go back to main heating page »