HVAC, Air Conditioning, Heating in Downey CA
California Air Conditioning Systems, Inc. is Southern California's premier HVAC service provider. Our more than 20 years of experience in the industry have honed our skills and capabilities in the installation and maintenance of HVAC, air conditioning, and heating systems. Through the years, we have acquired state-of-the-art tools and equipment that have helped us become more efficient in performing our jobs. With these resources, we can address all types of HVAC concerns and work on large installation projects.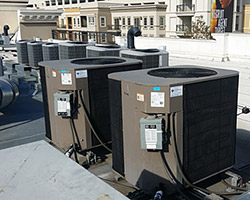 If you need a reliable service provider in the Downey area, don't think twice about hiring us today. We have the capacity to work on complex project requirements and provide fast and efficient solutions to our clients' concerns. Call us at (310) 530-0504 and we'll show you why we are the most trusted company in the state.


24/7 HVAC Services for Downey Clients
A defective air conditioning unit can make your home an uncomfortable place to stay at. It may also result in lost income if you are a business owner. For large commercial properties, malfunctioning HVAC, air conditioning, and heating systems can impact normal operations and may result in costly maintenance efforts. And if your business is located in central Downey, you should always have a backup plan when these things happen. But if you want to immediately restore the integrity of the entire system, just call us at California Air Conditioning Systems, Inc.

We offer 24/7 HVAC services in and around Downey, CA, so you should not worry if one of your air conditioning units becomes defective or your entire HVAC system malfunctions. We have certified and highly skilled technicians who are always ready to be dispatched to your location anytime of the day. They are equipped with the right tools and equipment when responding to emergency calls to ensure immediate solutions to identified problems. Whether you need our services early in the morning or in the wee hours of the night, we can always provide your needed help.


Professional Installation and Maintenance
We are known in California for our professionalism and adherence to high quality standards. It is our commitment to provide all clients with superb workmanship, premium products, and long-term solutions to their HVAC, air conditioning, and heating problems. We never provide subpar work or use unreliable methods and techniques when working on installation and maintenance projects. We always prioritize our clients' comfort and safety.


Comprehensive HVAC Services
Our company is one of the very few service providers in California that offer comprehensive HVAC services. But we are still the top choice of most clients for our experience and the unmatched skills of our personnel. These qualities have helped us provide outstanding services every time.

Meanwhile, we can tackle almost all kinds of projects involving HVAC, air conditioning, and heating systems. Some of the services we offer include:


residential HVAC installation and maintenance
construction of new HVAC systems
industrial and commercial HVAC services
preventative maintenance programs
repair and part replacements
design and build services
HVAC sales
indoor air quality assessment
spot cooling services
Hire the Most Trusted HVAC Services Company
Only trust in a company with an unblemished record in HVAC installation, repair, and maintenance. Our long list of satisfied clients in Downey and nearby areas can attest to our reputation and capabilities as HVAC specialists. If you want to get outstanding HVAC services at costs that won't ruin your budget, call (310) 530-0504 today.




We work with brands like Carrier, Lennox,York, Cozy, Williams, Mitsubishi, Trane and many others!