Residential

Residential HVAC services include:
Air Conditioning Units
Heating Systems
Indoor Air Quality Diagnostics
Duct Leak Test and Sealing
Service, Repair and Maintenance

California Air provides heating and cooling system repairs and replacement in many different areas; Los Angeles, Orange County, and parts of Riverside and San Bernardino. We realize that your home is where you want to be most comfortable and with the perfect heating and air conditioning system, it can be. With our help, we are able to provide you with a safe and healthy environment to live in. Providing services like repairs, installations, replacement, maintenance, and duct cleaning, we are able to help with many various requests. Whatever you may need help with, give us a call and we can come up with a solution to help you.
California Air offers indoor air quality options to allow monitoring and reduction of carbon dioxide, carbon monoxide and other indoor air pollutants. Our in-house installation department means rapid replacement of worn equipment, or system changes required because of office remodeling.
Air Conditioning. It's important to have a reliable cooling system that you can rely on to keep yourself, the people, and the things around you comfortable. Our skilled HVAC technicians are all trained to install, maintain and repair any residential air conditioner by the most manufacturers. Our comprehensive service evaluation will give you an affordable solution that can save you money on your energy bill, prevent future repairs and replacements, and extend the life of your air conditioning system.
Heating. Home heating systems shouldn't be ignored until something breaks which leave you without heat until fixed. If you are in need of a new furnace or home heating system, you want to have a reliable HVAC company. Relying on a company means that the company will install or fix your system quickly and accurately. Through preventative maintenance and scheduled service, we can guarantee not only that your heating system will have fewer breakdowns, but your energy bills will be lower.
Duct Cleaning. Without the proper cleaning and care for air ducts, the air quality indoors will become more poorer. This means, the constant circulation of pollutants and dust particles that may or can be harmful to your health. Also, with proper care we are able to avoid any mold growth or any infestations building in the duct systems. We are able to help with this!
Availability. Our technicians are radio dispatched to many different cities around Los Angeles and Orange County. With this, we are able to send them to many locations that our customers are at. Some of our technicians probably even live in the same location as you! In addition, with 24-hour live emergency service, we are able to help you during nights and the weekends that other company's aren't able to reach you.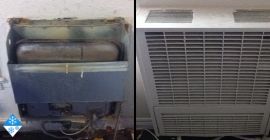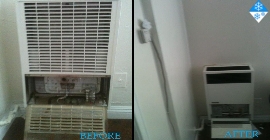 With our help, we can provide you with the service you need and get it done right the first time.