Hot Water Heater Replacement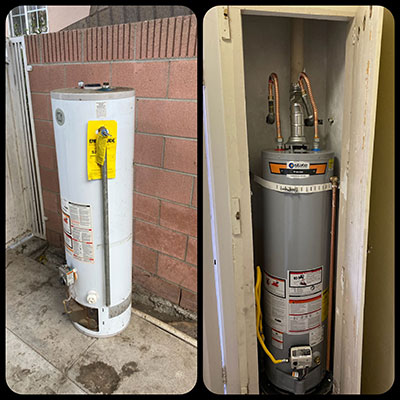 Hot water plays an important role in your everyday life. From showering to laundry to dishwashing, your water heater keeps working all day to meet your requirements for hot and warm water for different purposes. If something goes wrong with your water heating unit, you should immediately get it checked. Many times, water heaters are old, have consistent issues, or become inefficient due to aging. We at California Air Conditioning Systems are licensed and insured heating and air conditioning repair and replacement specialists in Lomita, CA that can assess your unit to guide you on the right course of action.


Water Heater Replacement Experts
With over two decades of industry experience in repairing, replacing, and servicing water heaters in the region, we are your one-stop destination for all your HVAC replacement requirements. We offer our services to both residential and commercial clients throughout Orange County, Los Angeles County, beach cities, and areas of San Bernardino, and Riverside.

If your water heater is giving you trouble, we have the expertise, experience, and tools required to provide you with the right services. We offer top-quality products including tankless, standard tank, and hybrid water heaters. We know how each type of unit works and can replace your unit ensuring proper connections and a thorough set-up. All our services are backed by the guarantee of customer satisfaction.

We provide water heater replacement services for the following types of requirements:


Electric water heater replacement
Gas water heater replacement
Residential water heater replacement
Commercial water heater replacement
Tankless water heater replacement
Re-circulation pump replacement

When it comes to water heater problems, we understand the importance of quick response. Therefore, we focus on providing same-day replacement services in most cases.


When Does Your Water Heater Need Replacement
Our licensed plumbers and technicians can fix most of the water heater issues. There are many times when we see greater value for our clients in replacing an old or troubling unit. We help you take such a decision to help you save money, time, and stress. Here are some of the common factors that may require your unit to be replaced:


More Frequent Repairs: Does your water heater require progressively frequent repairs? If regular breakdowns occur, this may be the right time for a replacement.
Aging: When your tank water heater becomes a decade old, it has neared the end of its lifecycle. It may require a replacement, especially if it has not been maintained properly.
Tank Leak: If your unit's tank has a leak, we may recommend a replacement. Leaks in tank-based units are mostly caused by internal issues. These issues can rarely be repaired.
Shortage of Hot Water: Many times, we recommend a hot water heater replacement to your clients when they face a frequent shortage of hot water. Lukewarm water in the faucets is also a common sign.
Signs of Rusting or Corrosion: If you notice any signs of rusting or corrosion on the tank, our technicians may assess your unit for replacement. When the water in your home becomes rust-tinted or discolored, it may be time to get a new water heater.

Sometimes, sediment buildup in the tank may have reached a point where a flush may not help. This usually occurs with water heaters that have not been flushed once a year.

At California Air Conditioning Systems, our plumbers and technicians are specialized in replacing different types of water heaters. Our crew has decades of combined experience and undergoes regular training to keep up to date with the latest systems and technologies. If you notice any of the signs mentioned above, call us today at (310) 530-0504. You may also write to us using this Online Form and we will get back to you at the earliest.