Temporary Spot Cooling Rentals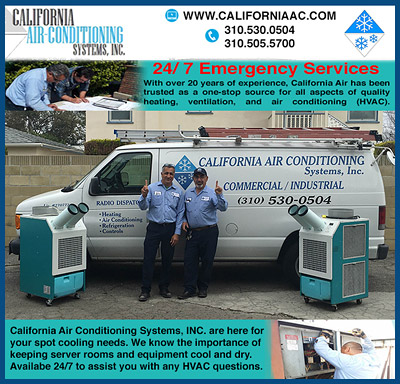 California temperatures can soar during the warmer months and the indoor environment can become uncomfortable without an air conditioner. While most HVAC systems can keep the environment comfortable and cool even when the outside temperatures rise, some rooms and areas on your property might need extra cooling. At California AC, we provide temporary spot cooling rentals in Los Angeles and South Bay areas. They will help you maintain an even temperature within your property.


What is Spot Cooling?
As the name suggests, spot cooling is an air conditioning system that can be placed in a specific room or location to provide added cooling wherever needed. They're placed in strategic locations to lower the temperature in hot spots. These hot spots are usually created in server rooms and near heat-generating machinery.

Spot cooling doesn't just help maintain a low temperature in hot areas of your property, but also helps when the power is cut or your air conditioning systems don't work. We offer portable air conditioners that are excellent temporary cooling solutions. When your system is down, you can call our emergency number and place a request for the cooling unit. We'll transport it to your location as quickly as we can so you don't experience any downtime or problems.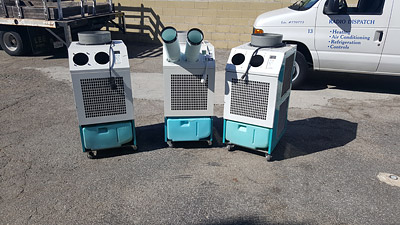 Our cooling systems are an ideal temporary cooling solution for your server room, office building, and warehouse. You won't have to bear the heat when your cooling system is done because this solution is both convenient and affordable.


Why Choose Temporary Spot Cooling Rentals?
Our cooling rentals are portable so they're easy to transport and move around. You can place them wherever you require and move them to different locations on your property without much effort. This can be convenient for business owners who want to focus the cooling at different locations during the day. Temporary spot cooling also offers a number of other advantages: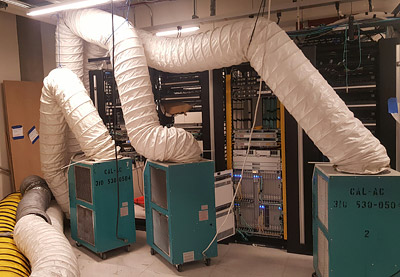 Affordability – Temporary spot cooling rentals are more affordable than permanent solutions. After all, you'll only use these systems for a few weeks or months during the year. Why waste money on large-scale permanent systems when you can rent a temporary one and still get the same results?


Maintenance – Portable spot cooling air conditioners are easy to maintain and clean. You won't have to spend extra money to ensure these systems keep your indoor environment comfortable. They won't require professional cleaning and maintenance often.


Energy Saving – Portable units consume less energy when compared to large-scale permanent air conditioners. They cool a specific area so they don't need too much power to run. They're also small and compact, so their design is eco-friendly as well.


Quality – You don't need to settle or compromise on quality when you rent temporary spot cooling systems. Our products are reliable, well-maintained, and very efficient. They'll always deliver a good performance.


Want to know more about our temporary spot cooling services here at California AC? Just give us a call on 310 505 5700 if you require our services urgently or contact us.