HVAC, Air Conditioning, Heating, Vernon CA
California Air Conditioning Systems, Inc. is proud to serve one of the state's most business- friendly cities. City of Vernon is home to at least 1,800 businesses that employ more than 55,000 people. It has earned its name as an industrial city for its large manufacturing facilities, which include steel, apparel, home furnishings, plastics, food, agriculture, and logistics.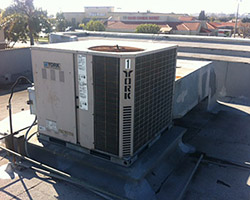 For years, we have been serving the HVAC needs of residential and commercial properties in Vernon. Most industrial and manufacturing facilities in this area rely on our services, and they are our long-time clients. If you are not one of them, we encourage you to try our services now. We can work on all your HVAC, air conditioning, and heating needs.

Dial (310) 530-0504 so we can discuss with you our comprehensive service offerings. You can also browse our site to get more information about our company.


The Experts in HVAC Systems and Installations
Our expertise in HVAC systems and installations is one of our core strengths. Clients can always expect outstanding results regardless of the scope and size of the project that we are working on. Whether we're working on the design and installation of HVAC systems in industrial facilities or installing air conditioning units for residential clients, they are always guaranteed of outstanding services.

With our decades of experience in the installation and maintenance of HVAC, air conditioning, and heating systems, we can handle almost all kinds of HVAC-related problems. A lot of Vernon clients have already tried and tested the kind of services that we offer, and they are all satisfied with how we perform our jobs.

In addition, all our personnel are properly trained and considered experts in their field of specialization. From technicians to installation crews, we make sure that they have the necessary certifications and appropriate training not only in the repair and installation of HVAC systems but also in using specialized tools and equipment.


Top-notch HVAC Products and Reliable Maintenance Services
At California Air Conditioning Systems, Inc., we highly recommend the use of top-of-the-line HVAC systems for industrial and manufacturing facilities. Choosing the best brands of HVAC, air conditioning, and heating products will help avoid frequent system breakdown. But these installations need to be checked and maintained regularly to ensure their 100 percent uptime. Failure to perform periodic maintenance and neglecting the need for system repair and upgrades may result in disruptions in your business operations or expensive replacement of the entire HVAC system.

But don't let these things happen by having us as your maintenance contractor. We have the resources needed for various HVAC maintenance concerns. Our people are certified to work on various brands of HVAC systems, such as Carrier, Bryant, Lennox, Trane, Rheem, Payne, Goodman, and York. We also have engineers who are more than qualified to handle the maintenance needs of industrial complexes and manufacturing facilities in Vernon, CA.


Premium Services at Competitive Rates
We offer our services at competitive rates, so you can still enjoy professional HVAC assistance even if you have a limited budget at hand. And if you're not satisfied with our work quality or the work ethic of our staff, we will be willing to provide you with another set of visit. That's just how confident we are about our people's professionalism and skills.

Please contact us today at (310) 530-0504 or call (310) 505 5700 for emergency HVAC, air conditioning, and heating services.




We work with brands like Carrier, Lennox, York, Cozy, Williams, Mitsubishi, Trane and many others!