Are You Having Heater Problems?
Experiencing problems with your heating unit? Is your heater making noises? Does it consistently turn on and off? Schedule a heating repair service appointment with your local heating contractor!
In This Section:
Wall Heaters
Do I need to get my wall heater inspected? Yes.
Why? Because a venting problem could occur.

"Carbon monoxide (CO) is a colorless, odorless, and poisonous gas that results from the incomplete combustion of fuels such as natural or liquefied petroleum (LP) gas, oil, wood, coal, and other fuels."
It's during the cooler months where customers begin calling their local HVAC contractors concerning their wall heaters to be cleaned or repaired. What happens typically is that the natural gas company comes by to light the pilot to their wall heaters, and if it does not light, it is "tagged". This "tag" essentially means that the wall heater is not to be used until it's fixed.
This job typically consists of a few but delicate things:
Removing and cleaning the firebox
Cleaning the heater exhaust flue
Use of brushes and de-clogging tools to clean the vents
And if necessary, might have to replace the whole unit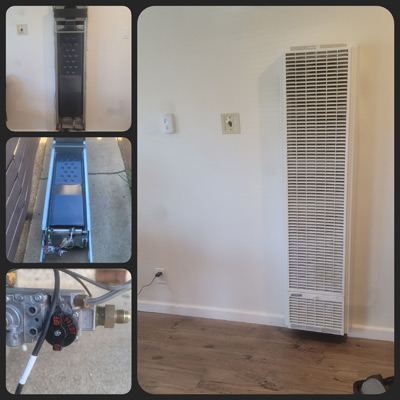 It's important for customers to find professional and trusted HVAC contractors to do this type of job. Some duct cleaning companies can provide the service, but to replace and install a completely new unit is completely different. When it comes to wall heaters, it is important that everything is done perfectly. If not, gas could be leaking, the scorching stainless steel could be touching a flammable material, or the vent top could be taken by the wind.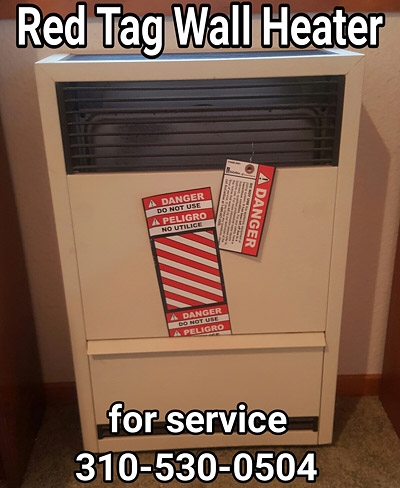 We work with brands like Carrier, Lennox,York, Cozy, Williams, Mitsubishi, Trane and many others!

Go back to main heating page »