HVAC Services in Maywood, CA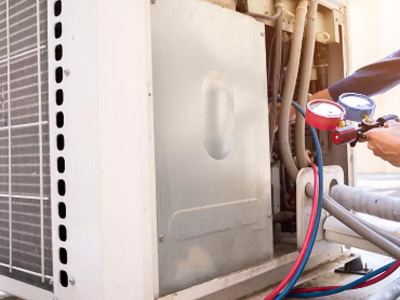 Call California Air if you need air conditioning, heating, or indoor air quality services in Maywood, CA, including indoor air quality inspections. Both our business and residential clientele have often expressed their satisfaction with our services. Our AC service covers every angle, including installation, maintenance, and repair. Please don't hesitate to contact us anytime if you have any inquiries about our products or want further details to choose which system to implement.


Air Conditioning
You'll need to turn on the air conditioner if the outside temperature and humidity exceed what's comfortable inside your home or business. And if the air conditioner is broken, it affects the whole household or workplace. You can avoid these problems with timely maintenance. In addition, this will stop any issues you already have from getting worse and more expensive. A maintenance schedule for your air conditioners will increase their lifespan and save your monthly energy consumption costs.

By doing regular tune-ups, such as once a year or in the spring, you can prevent the buildup of dust that can drive your system to work harder than it ought to and ultimately lead to its early failure. We are your one-stop shop for AC maintenance, diagnostics, and any make or model repairs. Any brand, any version. California Air can help your air conditioner last longer and perform better, saving you money. Don't suffer in the heat; give us a call today.


Heating
Everyone should have access to a safe and secure location to live and work. Keeping your heater in good working order may save you a lot of money in the long run. Having your heating system break down during winter is an inconvenience for both homes and businesses. In the unfortunate event that your heating system fails, you will need the assistance of a professional heating repair provider. A heating system might break down without regular maintenance. When the thermostat fails, the heater won't turn on, and the fan won't work.

There could be an issue with airflow if the heater's internal components, including the fan motors, belts, and bearings, were not adequately maintained. Overheating and erratic temperature regulation are two potential outcomes of this problem. Our expert will be able to get rid of these issues for you. We can assist you with both minor and significant heating repairs. Leaks of toxic gases like carbon monoxide are dangerous for people of any age. Please allow us to help you in avoiding this situation and remaining secure and comfortable with our expert heating services, including inspections, maintenance, repairs, and more.


Indoor Air Quality
Indoor air quality is an issue for every property owner in Los Angeles. The haze is too thick to tolerate, so staying indoors is your only option. California Air can guarantee that no external air contaminants, such as smog, will enter your home's ventilation system. Getting in touch with us will provide prompt, expert assistance tailored to your needs. Some of the air quality solutions we provide are air purifiers, humidifiers, dehumidifiers, air filtration. We also provide duct replacement and installation, UV germicidal lamps, duct sealing, repairs, and maintenance. Don't strain your lungs: get in touch with us and see what a difference we can make to your home's indoor air quality.

For more details about our air conditioning, heating, and indoor air quality services in Maywood, CA, call California Air at (310) 530-0504. We are here to address all your emergency and standard air condition requests. You can write to us through this Contact Us link. Our team will respond quickly to discuss your requirements for these and our other services.