Air Conditioning & Heating Services
Having problems with your air conditioner? Are you in need of heating repair service? When was the last time you had preventive maintenance? Contact us today!
In This Section:
Swamp Cooler Repairs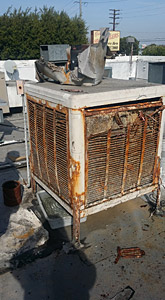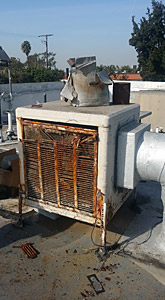 (Does your swamp cooler look like this? If it does, you need a replacement.)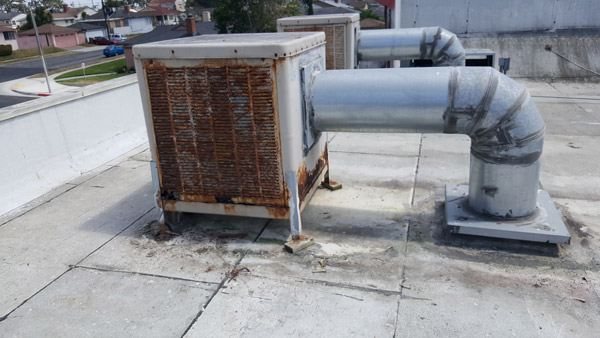 The focus of owning and operating a commercial kitchen isn't just about the exhaust system and how cool and smoke-free the area is. It's also about how cool, fresh air is getting into the kitchen. That is the job of a swamp cooler. An owner needs to understand how vital a swamp cooler is for a comfortable kitchen.
What is a swamp cooler?
A swamp cooler (also evaporative cooler) is a system that cools air through the evaporation of water. It differs from a typical air conditioning system which uses an absorption refrigeration cycle. With a swamp cooler, dry air go through a process of evaporation, which cools air using less energy than refrigeration. This provides a fresh, filtered air, while the stale, inside air is blown out.
Benefits
Due to the process that goes with swamp coolers (also evaporative coolers), air is circulated throughout the room or office. This helps provide fresh air and, at the same time, get rid of the stale air that was there before. This is extremely beneficial for locations that are moderate in humidity and needs fresh air to properly function. Industrial panels, commercial kitchens, greenhouses, factories, and confinement farming are all examples of locations that requires fresh air for comfort and to keep operation stable.
What can we help with?
California Air is a full-service HVAC company. This means we are experts in everything air conditioning, heating, and ventilation, which includes swamp cooler installation and repairs. If you are looking a HVAC contractor to provide swamp cooler repair services, look no further! We have worked with many businesses in the past that asked us to install or repair their swamp cooler. Give us a shot! Call the numbers below!


We work with brands like Carrier, Lennox,York, Cozy, Williams, Mitsubishi, Trane and many others!

Go back to main air conditioning page »