Air Conditioning & Heating Services
Having problems with your air conditioner? Are you in need of heating repair service? When was the last time you had preventive maintenance? Contact us today!
In This Section:
Air Conditioning Replacement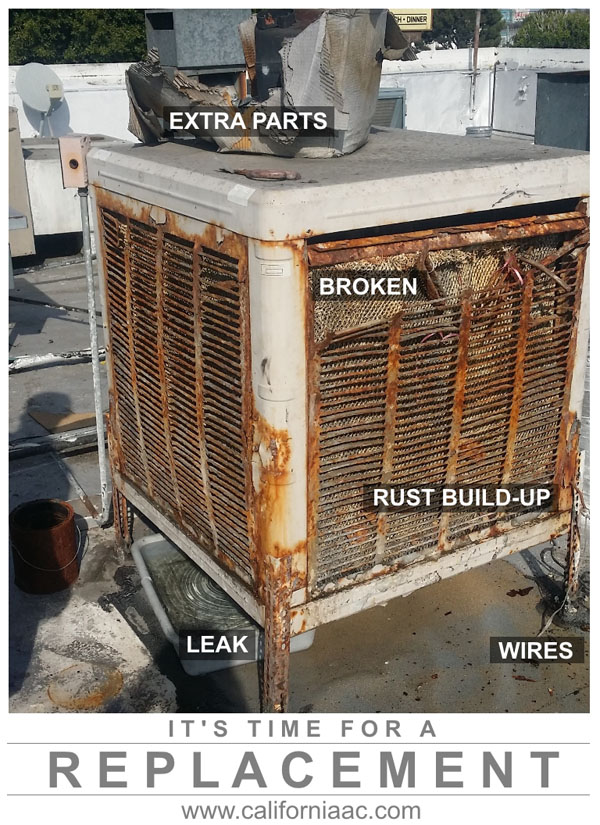 There's always the question of "when should I replace my air conditioning unit?" or "how old is too old?" and even "why not wait until my air conditioner breaks down?"
See, If you have to ask yourself that question then it's probably necessary for a unit replacement. There's no doubt that a brand-new air conditioner is a huge investment. But how do you know when is the time to replace what is currently controlling your place now? If it's running, doesn't that mean it's perfectly fine? Well, not quite.
First of all, what you really need to focus on is getting regular maintenance from your local air conditioning and heating company. California Air can provide that type of service. However, if your AC unit is getting to about 10 to 15 years old, here are a few facts to consider:
A normal air conditioning unit should last 12 to 15 years. If it's been more than 10 years and the AC has started giving you multiple problems, consider replacing it.

If your energy bill has increased over the past year or you have noticed the need to call for maintenance and AC repair more often, pick up that phone and be ready to dial your HVAC contractor as a replacement is at hand.

If the rooms are inconsistent at keeping the certain temperatures stable, your equipment may need to be looked at. This generally does not mean it has to be replaced but is just a quick solution to fix a small problem.

Noise. The air conditioner makes too much noise. This can be due to the air duct or issues with the coils.
If you are looking for air conditioning replacement in Los Angeles or Orange County, we are your go-to air conditioning contractor. We've been in business for many years and are experienced and familiar with services such as replacing freon, changing out filters, cleaning units, replacing belts, and completing system removal and installs. Give us a call and we'll schedule the next available date/time that is most available to you.


We work with brands like Carrier, Lennox,York, Cozy, Williams, Mitsubishi, Trane and many others!

Go back to main air conditioning page »