Air Conditioning & Heating Services
Having problems with your air conditioner? Are you in need of heating repair service? When was the last time you had preventive maintenance? Contact us today!
In This Section:
Commercial Refrigeration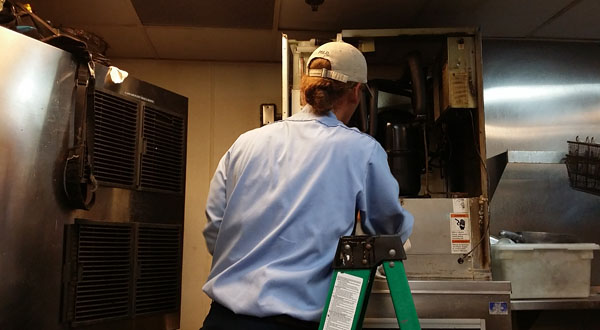 A restaurant business relies heavily on refrigeration systems. Without it, uncooked meat and fresh vegetables will rot, beverages and alcohol will be warm and customers will leave. It's almost impossible to run a restaurant without a properly working refrigeration system.
At California Air, we understand how big of a problem this is. Failures are inevitable and can happen at anytime. Proper maintenance of a perfectly installed refrigeration unit is key to getting the most out of your equipment and to prevent failures from happening at the worst times. Our truck is equipped with parts to get you back in business as soon as possible.
Common Problems:
Frost or ice develops: This may be a sign of poor airflow, or a refrigerant leak.
Can't maintain temperature: Could be a simple user error, malfunctioning thermostat, bad seals on doors, compressor issue, or, again, a refrigerant leak.
Loud noises: There are fans, motors, compressor, and other mechanical component in a refrigeration equipment. Expect to hear noises; however, if it's a noise that's unfamiliar, schedule service with your refrigeration contractor.
Not only do we provide repairs, we also help with installation. We work closely with general contractors and project managers to install and start new refrigeration systems. If you are in the process of acquiring bids for a new restaurant, send us your bids: harryirvine@californiaac.com. We'll get back to you shortly.
A few brands that we are familiar with:








We work with brands like Carrier, Lennox,York, Cozy, Williams, Mitsubishi, Trane and many others!

Go back to main air conditioning page »