What Is Considered Bad Ducts?
Know the difference between exceptional ductwork and bad duct work. Click the link below. Don't be fooled, know your ducts!
In This Section:
Air Quality

In Los Angeles, the air quality indoors matters to every home and business owner. The smog outdoor's unbearable and the only chance to breathe in some fresh air is indoors. With our help at California Air, we can assure you that none of the outdoor smog and other air pollutants can and are able to make it into the air you breathe. Contacting us, California Air, will get you professional and personalized service that will guarantee results. We offer solutions to air quality problems, like air purifiers, air filtration systems, humidifiers and dehumidifiers, UV germicidal lights, duct replacement and installs, and duct sealing, cleaning, and repairs. Breathe easier, contact California Air Conditioning Systems today.
Phone: (310) 530-0504 | Fax: (310) 530-4004 | E-mail: info@californiaac.com
Air Filters Replacement; HEPA, MERV. We understand that some people are sensitive to certain air pollutants. Some even think being indoors can help with their allergies. They are partially correct. However, without the proper filter at your home or business, your allergies might possibly be worse. Here at California Air, we take your health into consideration before coming into a conclusion of which filter to use with your air ventilation unit.
HEPA and MERV are two types of air filters that are efficient in removing and filtering air particles through the ventilation systems. With more particles gone from the air, people are able to breathe in better and cleaner air. If you have any questions, feel free to call our experts at Calfiornia Air. We will be more than happy to provide you with solutions to your problems/issues.
Duct Replacement, Installs, and Repairs. Poorly designed and damaged ductwork causes many indoor air quality issues. However, leaking ductwork can be responsible for up to 30% of energy loss in your home or business. With the proper sealing and repair of these air ducts, you are able to save more money on your utility bill. In addition, this prevents air particles to pass through the ductwork and be redistributed to the spaces where to vents blow out. here at California Air, we'll provide you the service that is not only professional but also clean and close to perfect.
Air Balance Report/Testing. To ensure your units are running at it its maximum peak, we provide HVAC Tab (Testing, adjusting and Balancing). With this, we are able to measure the numbers and adjust the systems to achieve optimum performance of the building equipment. Call California Air today and we can discuss your system's performance.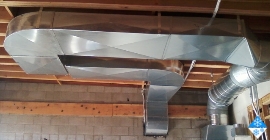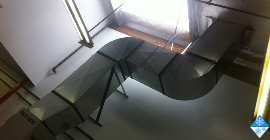 Why you should pick California Air to service your A/C units:
Our technicians follow procedures by-the-book.
Stocked trucks to ensure your system will be up and running in no time.
Technicians meet twice-a-week for group training and discussions.
Fully insured and certified technicians, having gone through background checks and drug tests.
We schedule appointments without you breaking your schedule.
Each hired technicians are evaluated to make sure they provide clean and outstanding service.
24 hour emergency service call center.
Up-Front pricing so that there would be no surprises.
With the name like California Air, how could you not pick us?


We work with brands like Carrier, Lennox,York, Cozy, Williams, Mitsubishi, Trane and many others!

Go back to main air quality page »